July 26, 2012
Hi all, after not so "good" experience with GoDaddy my blog was down for a while. Restoring all things now, so it will work stably soon.
Update on the issue:
Well that was fun. It took around 3 hours to setup WordPress with plugins and copy&paste all articles. Google helped by caching all pages
and fortunately I had no much to copy. Also, acquired good experience restoring posts IDs for restoring all comments in Disqus and FB Likes, Twitter shares and G+1′s. So, if anyone needs such you can shoot me a message, I'm a ninja in it now ))
So, what was the story with GoDaddy? Trivially, I've missed payment for my hosting account. Right on the next day I've sent message to support at GoDaddy and got following message:
"Thank you for contacting Online Support.
I understand that you have a question about your hosting account. After further review, it shows that the hosting account expires on 7/5/2012. If you do not have access to the files that made up your site we can restore a hosting account but, there will be an extra charge involved. Please provide the following information so we can process this request. Note: we can only restore hosting accounts within 30 days of cancellation."
…. bla bla bla…
"Please clearly state that you accept the Restore fee of $150.00 (USD)".
Wow, never knew it costs so much to reactivate account by clicking on a checkbox. Actually, other hosting providers did that for free for my clients who had missed to pay in time but are ready to pay within 30 days after expiration date. Fortunately, I had WP template files locally, but was lacking data in MySQL DB. So, I've asked for another approach, here is how it looked…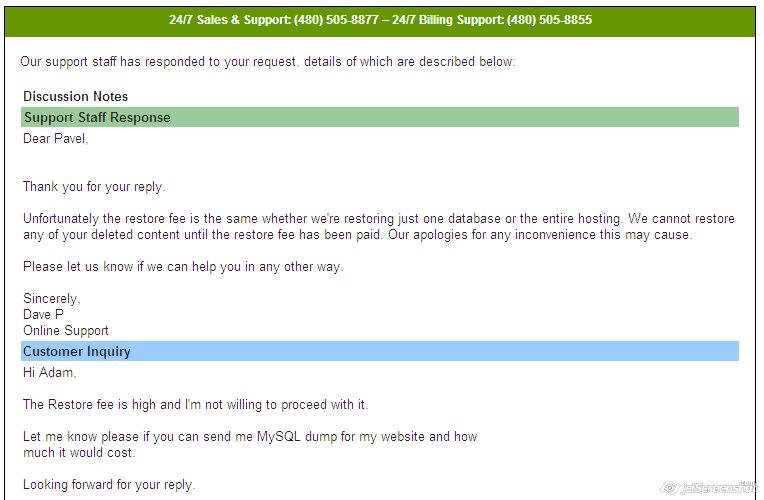 As you can see there are no other options ((. I can't name it a good customer experience. For you to know, Economy hosting plan costs around $60 per year (depends discounts you use among a bunch of them from GoDaddy). On my opinion $150 restore fee is very high being twice more than hosting cost for whole year.
After this experience I've probably become the second type of people according to following statement – "there are two types of people: those who are doing backups and those who are ALREADY doing backups" )))). At the end just want to remind to remember asking service providers about how the solve related problems which might occur, not just about core service. And pay bills in time!
Enjoyed reading?
People with the same interests want to read article too.
Share this post to help them finding it