February 22, 2013
1-2 minutes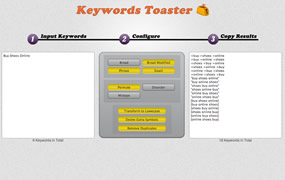 Announcing launch of new app for search marketers. You can download and check it now at Chrome Webstore.


The following features are quite new across the tools in this field:
1) All-in-one Keywords Tools on Single Page
2) Immediate Results as You Type
3) Clear and Simple Layout
4) Installable App Which is Independent on Internet Connection
Included tools are aimed for daily use and allow specialists to:
- Wrap keywords (Broad, Broad Modified, Phrase and Exact)
- Permute keywords (e.g. "shoes online store" becomes "shoes store online", "online store shoes" and so forth)
- Generate typos which is especially great for creating negative keywords list (e.g. 'car' becomes 'cra' 'cat', 'acr', etc.)
- Perform usual operations with keywords
The tool is free, quick and easy to install and use. So, find a minute to take a look.
Online Version is also available.
Keywords Toaster Won Best Apps List Award in April, 2013.
You can also suggest features for improvement. So, if any then please feel free to send a message (you'll find a link within the application).
Additionally, you might want to check other similar tools which could work better for your needs. So, here they are:
Keyword Wrap
Format Click
PPC Keyword Wrapper by searchenginesmarketer.com
Jumbo Keyword
PPC Ad Wrapper by seobook.com
AdWords Wrapper by mikes-marketing-tools.com
AdWords Wrapper
PPC Ad Wrapper by ppcblog.com
Keyword Combinations by dsquare.de
Keywords Typos by seobook.com
AdWords Keyword Juggler by maxivista.com
PPC Keyword Combination Tool by lxrmarketplace.com
Happy using
Enjoyed reading?
People with the same interests want to read article too.
Share this post to help them finding it