August 7, 2012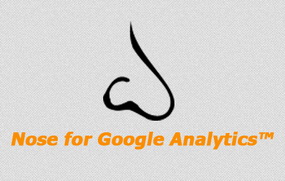 It is exciting time today, the day when Nose for Google Analytics™ goes public. Now website owners and Google Analytics experts can access and download powerful extension for Google Chrome™.

It was fun, intensive and impressive time developing the app. And now I'm happy to let it go to the live world.
So, what's interesting there for users? 
The idea behind it is simple. Any big achievement consists of small achievements. And the same on a website. When user converts, we reach the goal. But conversion consists of smaller conversions, steps and micro-tasks visitors do and accomplish while browsing the website. So, before visitor purchase some item he or she goes through a chain of pages. And now you can estimate those pages (not the website in total) much easier than you can do it via standard Google Analytics™ web interface.
Keep context in mind
The hugest difference from what you can do in Google Analytics™ is to see important information while remaining on the website. So, you not just see url string of the page you estimate along with metrics, but you see and feel the page because stats are just embedding right to the page.
360 degree data
Now you don't need to jump between different sections as you did in Google Analytics™ before. The most important information is now available immediately altogether. And even more, you can see this information in different perspectives at once. There are three perspectives: absolute data, performance and comparison.
Analyze fast
It's incredible time saver. All reports on most of the websites can be loaded between 1 and 5 seconds.
Technical aspects
Extension is using manifest version 2. It is much more secure standard than the previous version.
Authorization is handled via OAuth 2.0 protocol so you don't need to share login and password for Google Analytics™ account. Thus credentials could not be unveiled, since extension doesn't save them.
Core Reporting API v3 is the latest library from Google Analytics™ used in this extension. It works much faster and simpler than version 2. Integrating this library was one of the most exciting parts of the development, since natively it's not supporting authorization via secure protocol OAuth 2.0 in isolated environments like Chrome extension thus making it impossible to use for now. The goal was reached by developing custom authorization module from scratch to integrate both parts.
The beginning
So, the extension started to grow from now. You're welcome to install the app and experience benefits. Also, share news with your friends who is using Google Analytics™ now.
Would love to hear your comments in order to make it even more useful, therefore don't be shy, add your feedback to improve the app and let others know what's good there and what could be improved.
If you want to hear about extension improvements, subscribe to newsletter. Don't worry there will be only topic related emails.
More information is available on Guide to Nose for Google Analytics™ page.
Special thanks to Evgeniy, Dmitriy and Oleg who were testing extension during development and helped improve it providing feedback and wonderful ideas.
Enjoyed reading?
People with the same interests want to read article too.
Share this post to help them finding it