July 26, 2012
Colleagues, what can we do to have enough time to do everything we're excited about? One year past since I've started working on this blog, week after week arranging some minutes in my overloaded schedule to do little steps towards the goal. Finally, I'm excited to tell you that it's live and we can discuss ordinary things we all meet personally in daily life from different angles.
Hey, nice to meet you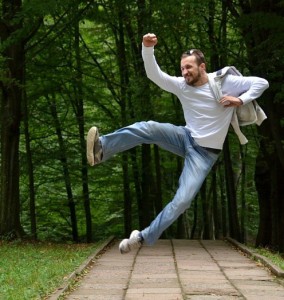 I'm from Uzhgorod, Ukraine. Ordinary man with extraordinary lifestyle and experience. I work a lot because it gives me energy thus have almost no rest. I think a lot to have ability sort out things in my life and realize what's good and what's bad. I'm constantly generating ideas to find a way how to make the world a better place. And I communicate with people all around to share knowledge and experience new impressions.
Education
I love it! I'm permanently learning new things. What is the official education? Well, I've finished nine classes at school. At the beginning of each year I was passing all educational program for the whole year and then was kinda free listener on lessons. Honestly, it was boring to wait until next year. Then I went to college. It was much more fun there. During the first course I've finished educational program for second course. During second course I've finished program for whole 4 years and started learning other things. I've run my first web studio on 3rd course with colleagues and found first job. Then I moved to university and learned everything in advance again. That freed a lot of my time and thus I was able to focus on different things. So far I've read many books and learned a lot of stuff, but I haven't found the answers I was looking for. I've realized that the real education is education of own life and own experience, and this is fun and this energizes me!
Experiences
I've been always involved in many things at once. Things are just going slower than I'm ready to act. My first super small business I've started when I was around 13 years old. I was repairing joysticks from Dandy and Sega gamepads for my classmates and their friends. Next round of moneymaking activity was at college. There I was developing programs on Quick Basic 45 and Pascal for classmates on my course and higher courses for their course work.
Web Spiders. Next step was a bit bigger. I was in college and found my first job, along with that me and colleagues opened web design studio. It was a time of first real clients, first real job, real work in collective and first deadlines )) With passion I've learned PHP, HTML/CSS, MySQL, JavaScript (there was no JQuery yet…) and environments like Flash, Photoshop, Fireworks, Dreamweaver and so on. Three months I was excited about Assembler and developed simple graphic editor on ASM. Ha, btw, those days my PC was Pentium 1, 200Mhz, 2GB HDD, 32MB RAM and 2MB video adapter. Eeriness…..
FenixMedia. Then I've joined FenixMedia company as PHP developer and developed projects for Poland. Great experience working in team in-house. There I've met one of the greatest developer and architect with whom we continue collaboration and to this day.
LevelUp. Along with that I've run advertisement agency with my friends and made wondeful things for local business. Participated in trading business importing various goods to Ukraine… I'd call it bad experience. More success I've found working as a freelancer developing projects for Canada, Switzerland and USA.
Rich Applications Consulting. Then I've met Adil and joined RAC company in USA. I've stopped my collaboration with FenixMedia and all freelance activities. It was a time of straight focusing on learning new technology for me Flex/ActionScript 3.0 and learning the remote teamwork. We were developing rich internet applications for different clients.
Crowd Interactive. In 2009 I was appointed to the post Director of Reputation Excellence at Crowd Interactive. This amazing team of experts developing and designing powerful web applications. I've learned a lot from them and significantly increased experience in SEO, PPC and WebAnalysis.
World of Solomon. In 2011 I've finally run my own web studio with a team of experts providing outsourcing services for companies in USA and Europe. I love the team I'm working with.
UKRHOT. In 2011 I've also run StartUp in travel industry. We've developed amazing engine using newest technologies. Growing this new company is the hugest experience I've ever had in my life.
StayEuro. In the very begining of 2012 I've joined StayEuro ltd. company as a partner of handling all deals in Ukraine. The goal is to help football fans to find and book accommodation in Ukraine and Poland during Euro 2012 championship. Incredible experience working in uncertain and unpredictable environment which has been formed by conditions in Ukraine and intentions of both sides – landlords and fans.
Enjoyed reading?
People with the same interests want to read article too.
Share this post to help them finding it