March 13, 2012
Haven't you had cases when things you've planned to do weren't completed in time?..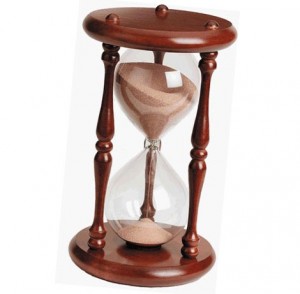 Regardless of what was the reason for this and level of importance of a task, the fact remains same – plan failed! Plan not implements when our forecast doesn't correspond reality of the future. Evidently, we can make mistakes in our assumptions during planning.
Can you predict all factors during planning? Human's behavior, availability of resources, change on a market, weather, currency… The answer is definitely not. Among various factors, there are those which we can control and manage, and those which we can't.
Therefore, it makes sense to focus on those factors for which you can influence and continuously improve yourself in that fields. Personally, I'm more concerned about my actions and reactions to changes towards task completion rather than factors that are out of my influence. And you don't?…
In this article, I'd like to touch and discuss only one of those factors. A factor which has #1 priority in everybody's life. And after dozens of read books and taken master classes, talks with people and ups and downs in real life experience, I've compiled a list of properties which I had to realize before I started behave effectively. I call it 'Properties of Time', which is definitely not exhaustive but the one which might be extended with your valuable input. Now, let's go through it.
1. Time is a universal Force and Law.
Absolutely all things obey to time. Time affects all things equally, but each thing is changing in time differently. It is indifferent to you or to someone else as well as it is indifferent to any other things. Noone and nothing could be special in front of time. It might sounds silly, but you can't earn any bonuses, slow down or speed up the time. However, your feeling, understanding and perception of time might be changed, and they are actually always changing in time. It is important to realize that time is out of your control and influence. Thus, you can't actually manage your time, instead you can manage your actions in time.
2. Time is eternal itself, but your time is limited.
As long as you do not recognize and accept the inevitability of your death, you can't begin to live fully. We all have time budget of our lives, year has its time budget, month has its time budget… Week could not be shorter than 7 days and day could not be longer than 24 hours, it could not be stretched or shorten. You can't add or substract hours from a day. The only thing you could do is to effectively allocate time within a day for your planned activities. So, if you postpone any of your task today, this task will steal time from tomorrow's day.
3. Time always moves.
When you work, when you sleep, when you talk or think, it constantly moves. Whether you inspired or suppressed, happy or sad, not matter whether you bored or have a fun, time permanently moves. And what is more important, time always expires. Sometimes we might lose sense of time, especially when we're excited about doing something. How often do you take into account your emotional excitation when you're planning your next day or week? What are your emotions actually when you're planning?
4. Time is a universal measure.
We've all heard old saying "time is money". In fact, this means that we just know how to correlate the time we spend with money we earn. Can't we say in same way that time is knowledge? Or time is connections? Or health? Therefore, time is a measure of every achievement in our life. Time is priceless. Somebody makes $100 per hour, another one makes $10,000 per same hour. Or somebody makes 1 new connection per month and another one makes 20 new connections per month. Do we utilize full potential of 24 hours each day? It is important to keep in mind that time influences all aspects of your life and, therefore, it worth to carefully pay attention on it.
5. Time is always new and unique.
Do you familiar with thought like 'Oh, no it is hard Monday again'? Or "At last, it is Friday'? Time is unrepeatable, every year is new, every day is new and even every minute is new. Time is unique every single moment. So, why do we sometimes lose a sight of new day just because it's called Monday or Friday? Everyday we get back home we can find that it is always new. There are new mood, new activities, new energy and so on. Tell honestly, how often do you review your own assumptions which were created by your past experience?
These were the core concepts I've realized and successfully implemented in my life. It took a lot of time and efforts, but this also respectively reflected on results. I know you have something to add to this article from your own rich experience and personal point of view. Now join the discussion and leave your comment below.
Enjoyed reading?
People with the same interests want to read article too.
Share this post to help them finding it